Overview

An Achilles tendon injury can affect both professional and amateur athletes. The Achilles tendon is one of the longer tendons in your body, stretching from the bones of your heel to your calf muscles. You can feel it, a springy band of tissue at the back of your ankle and above your heel. It allows you to extend your foot and point your toes to the floor. Unfortunately, it's a commonly injured tendon. Many Achilles tendon injuries are caused by tendinitis, in which the tendon becomes swollen and painful. In a severe Achilles tendon injury, too much force on the tendon can cause it to tear partially or rupture completely.

Causes
As with any muscle or tendon in the body, the Achilles tendon can be torn if there is a high force or stress on it. This can happen with activities which involve a forceful push off with the foot, for example, in football, running, basketball, diving, and tennis. The push off movement uses a strong contraction of the calf muscles which can stress the Achilles tendon too much. The Achilles tendon can also be damaged by injuries such as falls, if the foot is suddenly forced into an upward-pointing position, this movement stretches the tendon. Another possible injury is a deep cut at the back of the ankle, which might go into the tendon. Sometimes the Achilles tendon is weak, making it more prone to rupture. Factors that weaken the Achilles tendon are as follows. Corticosteroid medication (such as prednisolone) - mainly if it is used as long-term treatment rather than a short course. Corticosteroid injection near the Achilles tendon. Certain rare medical conditions, such as Cushing's syndrome, where the body makes too much of its own corticosteroid hormones. Increasing age. Tendonitis (inflammation) of the Achilles tendon. Other medical conditions which can make the tendon more prone to rupture; for example, rheumatoid arthritis, gout and systemic lupus erythematosus (SLE), lupus. Certain antibiotic medicines may slightly increase the risk of having an Achilles tendon rupture. These are the quinolone antibiotics such as ciprofloxacin and ofloxacin. The risk of having an Achilles tendon rupture with these antibiotics is actually very low, and mainly applies if you are also taking corticosteroid medication or are over the age of about 60.

Symptoms
Whereas calf strains and tendonitis may cause tightness or pain in the leg, Achilles tendon ruptures are typically accompanied by a popping sensation and noise at the time of the injury. In fact, some patients joke that the popping sound was loud enough to make them think they?d been shot. Seeing a board-certified orthopedic surgeon is the best way to determine whether you have suffered an Achilles tendon tear.

Diagnosis
Your doctor will ask you about your symptoms and examine you. He or she may also ask you about your medical history. Your doctor may ask you to do a series of movements or exercises to see how well you can move your lower leg. He or she may also examine your leg, heel and ankle and may squeeze your calf muscle to check the movement of your foot. You may need to have further tests to confirm if your tendon is torn, which may include the following. An ultrasound scan. This uses sound waves to produce an image of the inside of your leg. An MRI scan. This uses magnets and radio waves to produce images of the inside of your leg.

Non Surgical Treatment
Non-operative treatment consists of placing the foot in a downward position [equinus] and providing relative immobilization of the foot in this position until the Achilles has healed. This typically involves some type of stable bracing or relative immobilization for 6 weeks, often with limited or no weight bearing. The patient can then be transitioned to a boot with a heel lift and then gradually increase their activity level within the boot. It is very important that the status of the Achilles is monitored throughout non-operative treatment. This can be done by examination or via ultrasound. If there is evidence of gapping or non-healing, surgery may need to be considered. Formal protocols have been developed to help optimize non-operative treatments and excellent results have been reported with these protocols. The focus of these treatments is to ensure that the Achilles rupture is in continuity and is healing in a satisfactory manner. The primary advantage of non-operative treatment is that without an incision in this area, there are no problems with wound healing or infection. Wound infection following Achilles tendon surgery can be a devastating complication and therefore, for many patients, non-operative treatment should be contemplated. The main disadvantage of non-operative treatment is that the recovery is probably slower. On average, the main checkpoints of recovery occur 3-4 weeks quicker with operative treatment than with non-operative treatment. In addition, the re-rupture rate appears to be higher with some non-operative treatments. Re-rupture typically occurs 8-18 months after the original injury.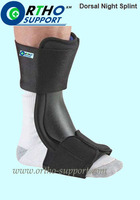 Surgical Treatment
The best treatment for a ruptured Achilles tendon in an active individual is typically surgery. While an Achilles rupture can sometimes be treated with a cast, splint, brace, or other device that will keep your lower leg from moving, surgery provides less chance that the tendon will rupture again and offers more strength and a shorter recovery period. Surgery may be delayed for a period of a week after the rupture, to let the swelling go down. There are two types of surgery to repair a ruptured Achilles tendon and both involve the surgeon sewing the tendon back together through the incision. Open surgery, the surgeon makes a single large incision in the back of the leg. Percutaneous surgery, the surgeon makes a number of small incisions rather than one large incision. Depending on the condition of the torn tissue, the repair may be reinforced with other tendons.

Prevention
To help prevent an Achilles tendon injury, it is a good practice to perform stretching and warm-up exercises before any participating in any activities. Gradually increase the intensity and length of time of activity. Muscle conditioning may help to strengthen the muscles in the body.